Name: Suki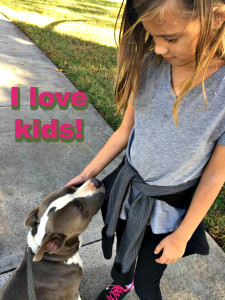 Species: mixed breed dog
Age: 2 years
Weight: approx 45lbs
Sex: spayed female
Location: Orange County, California
Organization: Animanity Rescue
Contact: Saskia Boisot
Phone: 619 895-0599 (San Diego)
email: sboisot@yahoo.com
Animal ID: 1078
Hi there – I'm an adoptable young dog in foster care in Orange County.  I was able to sneak my pet profile in because my foster person is a friend of the founder of AdoptMeApp.
I'm a happy-go-lucky puppy, full of playfulness and life.
I'm very docile, sweet, and good with kids. I like dogs, but no experience yet with cats. I walk easily on the leash, but sometimes I just don't want to exercise and I sit down.  You know what I mean!  Exercise isn't for everyone!
Let's talk about how cuddly and friendly I am. Be a couch potato partner with me.  I won't complain. All that being said, I am a young pup and very playful and energetic, and despite my sometimes stubborn demeanor regarding physical activity, I do need consistent exercise.  Are we a match?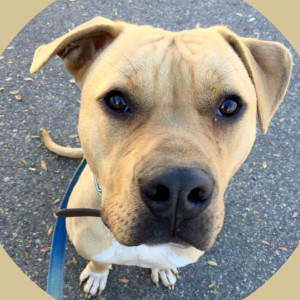 Name: Maverick
Species: mixed breed
Age: 1 year
Weight: approx 65lbs
Sex: neutered male
Location: Orange County, California
Organization: Animanity Rescue
Contact: Saskia Boisot
Phone: 619 895-0599 (San Diego)
email: sboisot@yahoo.com
Animal ID: 1077
Hi there – I'm a real live adoptable young dog in foster care in Orange County.  I was able to sneak my pet profile in because my foster person is a friend of the founder of AdoptMeApp.
I'm a happy-go-lucky puppy, full of playfulness and life.
I'm an absolutely adorable boy just over a year old. Big and lanky, but I walk well on my leash.  I'm super motivated by food and treats, which means I will be easy to train.
I like other dogs; haven't had any experience with cats.
Summing it up – I'm just a  a great big ball of love, fun, lively, and a couch cuddler too!
You might want to have some experience with large dogs given my size, strength, and puppy enthusiasm.
Love,
Maverick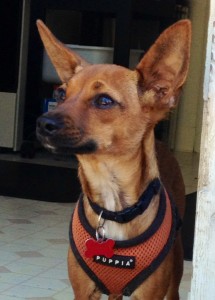 Name: Rooty Tooty
Species: Chihuahua mix puppy
Age: 10 months
Sex: male
Location: Silicon Valley
Contact: cynthiatypaldos@gmail.com
Animal ID: 1074
Hi there – I'm an adoptable puppy in foster care in Silicon Valley.  I snuck my pet profile in here when my foster person, who is the founder of AdoptMeApp, left me home alone with the computer turned on!
Now, let's talk about Me, Me, Me!  I'm Roo, or Rooty Tooty for long, or Rooty Tooty Tooty Tooty for really long!
I'm in foster care with 3 doggy brothers and I love them all.  I really, really LOVE them.  I am a dog's dog, no matter who the other dog is, big or small.  But the dog I love the most is my god, my guru, my mentor and my teacher – his name is Tiki, or Tiki Wiki for long.  Tiki is a 10lb chi mix and he has taught me all about doggy manners.  I didn't know anything when I came to live with my foster family.  I'm still just a puppy and I thought all doggies played all the time.  Tiki taught me there is a time and place for everything:
To everything, turn, turn, turn.
There is a season, turn, turn, turn.
And a time to every purpose under heaven.
A time to eat, a time to play.
A time to come, a time to stay.
A time for naps, a time for pats.
A time for snacks, I swear there are more treats.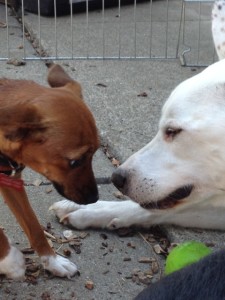 But, I digress. However I would do best in a home with another patient but firm dog who will play with me a lot, but who will also let me know when playtime is over.
As for people, I was afraid of them when I first arrived in my foster home.  They would chase me and catch me and I would be so scared I would scream, poop, pee and shake.  Now I understand they won't hurt me and I tolerate it but I am still not loving it.  My foster person sings a little song "Rooty Tooty Tooty Tooty Tooty" so I know she is going to pick me up. I go sit in the corner and wait for the inevitable.  I don't complain when I am picked up, I don't squirm, but I am still getting used to it. To help me become more familiar with handling my foster person carries me around in a little doggy papoose.
I am easy to manage though because I go wherever Tiki goes!  I sleep in the bed with my foster person and the other 3 dogs, I hang out by her desk when she is working on the computer. I take treats right from her hand and put my little paws on her leg.  So I'm well on my way to being comfy with people but I do need a kind, patient, pet guardian who is willing to let me go at my own pace.  I have been on a few walks (always with my guru Tiki), and I went to Petsmart Doggy Day Camp and did well (of course, my guru Tiki went with me).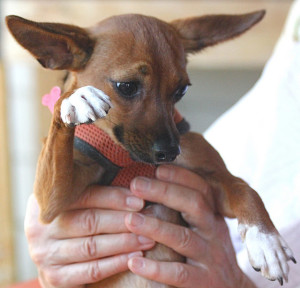 I am working on my house training and mostly got it figured out but I do occasionally make a mistake.  I am learning how to go get in my bed when told to.  I don't mind when other people come over and I will take treats from them and let them hold me.  I do have a strong mind of my own – despite being small I am not a wallflower.  I do a bit of barking (not at the squirrels, mostly at other dogs and people when they walk by and I am outside on the enclosed front porch).
Well, I've got a lot more to tell you but let's meet in person and have a chat.  Bring you other doggy with you so that we can play!
Photos by Jill Thompson, Palo Alto, CA