Name: Suki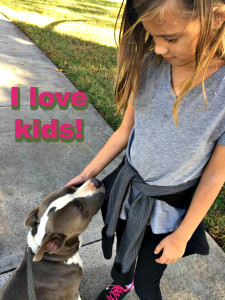 Species: mixed breed dog
Age: 2 years
Weight: approx 45lbs
Sex: spayed female
Location: Orange County, California
Organization: Animanity Rescue
Contact: Saskia Boisot
Phone: 619 895-0599 (San Diego)
email: sboisot@yahoo.com
Animal ID: 1078
Hi there – I'm an adoptable young dog in foster care in Orange County.  I was able to sneak my pet profile in because my foster person is a friend of the founder of AdoptMeApp.
I'm a happy-go-lucky puppy, full of playfulness and life.
I'm very docile, sweet, and good with kids. I like dogs, but no experience yet with cats. I walk easily on the leash, but sometimes I just don't want to exercise and I sit down.  You know what I mean!  Exercise isn't for everyone!
Let's talk about how cuddly and friendly I am. Be a couch potato partner with me.  I won't complain. All that being said, I am a young pup and very playful and energetic, and despite my sometimes stubborn demeanor regarding physical activity, I do need consistent exercise.  Are we a match?