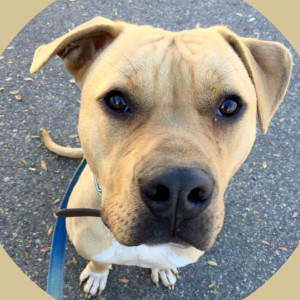 Name: Maverick
Species: mixed breed
Age: 1 year
Weight: approx 65lbs
Sex: neutered male
Location: Orange County, California
Organization: Animanity Rescue
Contact: Saskia Boisot
Phone: 619 895-0599 (San Diego)
email: sboisot@yahoo.com
Animal ID: 1077
Hi there – I'm a real live adoptable young dog in foster care in Orange County.  I was able to sneak my pet profile in because my foster person is a friend of the founder of AdoptMeApp.
I'm a happy-go-lucky puppy, full of playfulness and life.
I'm an absolutely adorable boy just over a year old. Big and lanky, but I walk well on my leash.  I'm super motivated by food and treats, which means I will be easy to train.
I like other dogs; haven't had any experience with cats.
Summing it up – I'm just a  a great big ball of love, fun, lively, and a couch cuddler too!
You might want to have some experience with large dogs given my size, strength, and puppy enthusiasm.
Love,
Maverick